Have you decided to build eStore? And must be tired of searching which is a suitable e-commerce platform for your online store. Undoubtedly, you've heard of the most famous and worldwide-used WordPress plugin – WooCommerce, yet have doubts whether it is the best e-commerce platform? Don't worry, this article will help you to understand the WooCommerce platform, best free e-commerce platform, making a decision to select it.
WooCommerce development services are getting popular among the store owners and developers. WooCommerce is a free plugin and allows selling a range of various products. It is built to seamlessly integrate with WordPress. WooCommerce powers 30% of all online stores which is more than any other platforms; this was possible because of endless flexibility and access to hundreds of free and premium WordPress extensions. Those who are familiar with WordPress and desired to get a store up, running quickly and at a lower cost WooCommerce is an ideal platform.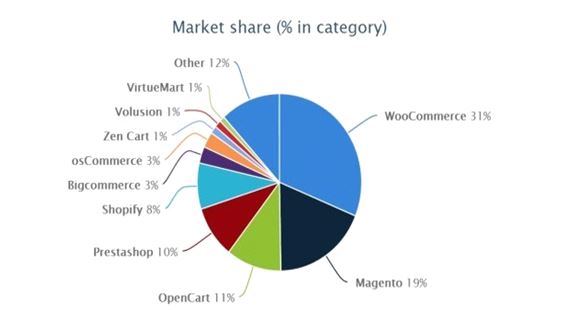 The most popular E-commerce platforms
There are a few popular e-commerce platforms that rule the world when it comes to their frequency on the entire web.
The incontestable leader is WooCommerce, occupying 32% of the e-commerce market, followed by Magento (18%), OpenCart (11%), and Shopify (8%)
What makes WooCommerce the best e-commerce platform?
Storefront

Advanced E-Commerce Functionality

Marketing & SEO

Store Management

Web Hosting